Divine Shreds - Chicken with Tuna & Carrot - 75g Pouch
Article number:
022517446836
Availability:

In stock

(25)
Divine Shreds are an excellent way of adding flavour, texture and moisture to your cat's dry food diet.
These toppers are rich in protein and low in calories.
Catit Divine Shreds are prepared with only 4 pure, high-quality ingredients and not a single by-product,
so you know exactly what's in your cat's dish.
No grains, additives, or preservatives. Have your cat enjoy easily digestible, low-carb ingredients without any additives or preservatives.
Each pouch is full of perfectly sized, tender shreds of fish or meat with lots of flavourful moisture.
Mix Divine Shreds in with your cat's dry kibble to instantly complement the crunch and enhance the flavour. Each tiny pouch makes a world of difference!
Catit Divine Shreds are packed in compact, portion-sized pouches that are easy to store.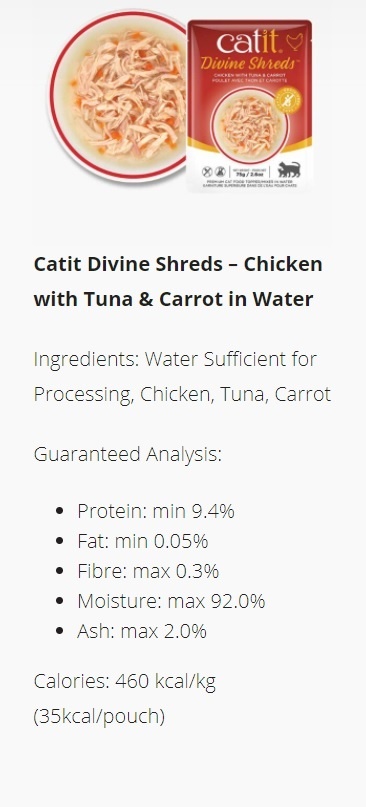 0
stars based on
0
reviews