Article number:
627818100670
Availability:

In stock

(7)
Side Dish
A favourite of all dogs big or small, from puppies to adults! Green Beef tripe is sure stinky stuff that dogs go crazy for! Sourced from only the best, highest quality, hormone & antibiotic free beef, that's pasture raised in Ontario. Add as a topper to every meal, or just as a special treat!
Hormone & Antibiotic Free. Pasture Raised Beef. Supplemental Feeding Choice – feed in rotation with Big Country Dinner, Blend or Pure Formulas. Rich source of vitamins, minerals and digestive enzymes.
Feeding Guide
Side Dishes are a supplemental feeding choice for dogs and cats. Side dishes are not intended to be fed as a complete meal but are intended to enhance or customize your pet's dietary choices.
We suggested offering Side Dishes as a topper with other balanced raw, cooked or dry foods. Recommended maximum serving size – 1/2 cup per 1 lb. of food.
Need some inspiration on how to include side dishes in your pet's next meal?
Makes Frozen Treats. Big Country Raw Frozen Treat Molds make it easy! Simply thaw, portion into molds, freeze, and then serve as needed! Just add a scoop (or two) with each meal. Our recommended serving size is 2 oz (1/4 cup) per 8 oz (1 cup) of raw, cooked or dry food.
Add as a food topper to your pet"s meal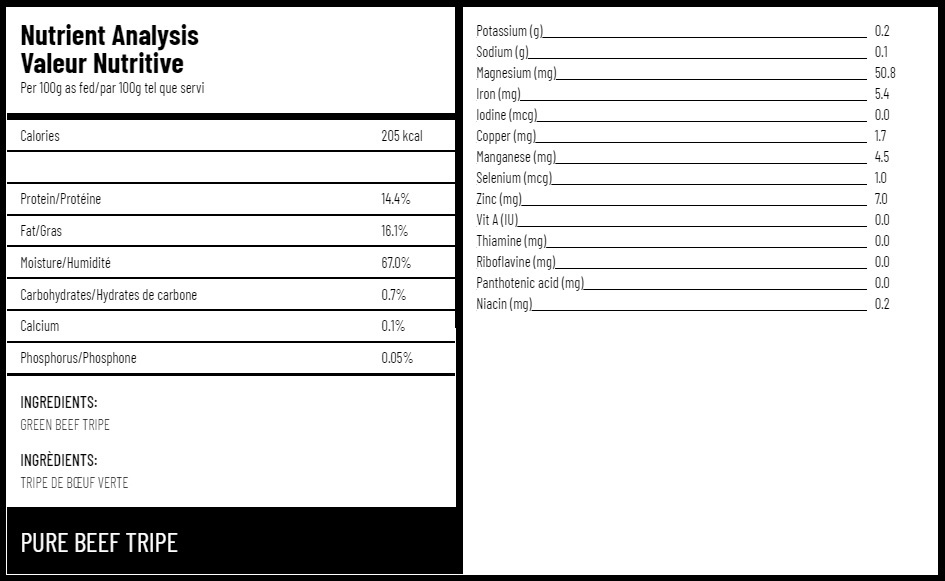 Disclaimer
Big Country Raw® follows the Minimal Requirement (Amount/1000kcal for Growing Puppies After Weaning & Adults Dogs) suggested by The Nutrient Requirement for Dogs and Cats by the National Research Council (NRC). For the nutrients P, Na, K, I, Co, Mn, and Vit A, E & B group (no minimum requirement provided) recipes match the NRC Recommended Allowance. For Omega-3 Fatty acids (ALA, EPA, DHA), and Vit D we strongly suggest adding fish or Thrive® Herring Oil to meet the NRC Recommended Allowances.
Safe Raw Food Handling Instructions
Keep food frozen and thaw in refrigerator until ready to use.
Raw food must be used within 3 days after thawing.
Return unused food back to the refrigerator after serving.
Serve in stainless steel or ceramic dishes.
Wash all work surfaces, utensils, serving spoons and hands with hot water & soap after handling raw meat & poultry.
0
stars based on
0
reviews