With a wide All Webbing Training Collar, a quick simple pull will correct your dog and stop it from tugging. It's lightweight and more gentle than traditional choke chains.
Limited slip corrects dogs in a gentle manner. 100% original RC patterns. All webbing design reduces overall weight and prevents the staining of fur. Reflective RC signature label keeps your pet visible at night. Hardware is nickel plated to resist wear. Durable and machine washable.
Intended for dog training and walking. Do not leave on unattended dog or dog at play.
Please measure your pup!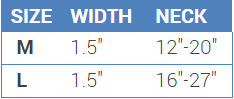 Care
Machine wash cold on delicate cycle. Do not wash with Velcro items. Hang to dry. Do not iron, do not bleach, do not dry clean.